MetaMorphosis
The Exclusive one to one Coaching
For a completely personal, in-depth and confidential look at your specific issues. Nandita recommends a high level one to one coaching. From preparing you to be able to create a brand around you or handle a crucial presentation, to developing your interpersonal skills or helping you with confidence and self-esteem issues. Our individual work is powerful ,comprehensive and quick.
Who Should Attend ?
Entrepreneurs
Working Professionals
Self Employed Professionals
Working Women
House Wives
Who ever wants to Come out of their existing issues for a better future.
What are the Key Benefits?
Overcome obstacles in business and professional life
Develop the know how to tackle crisis
Become aware of the practical and real life scenarious
Prepare self for Winning the game
Achieve success in all the goals
Skill Set Required
Pre-requisite
What's Specially Covered in Metamorphosis?
The intervention will depend on the brief given by the client and the first meeting with the candidate – Session Zero. The exact course of action, session details and the investment required will be given post Session Zero. Following will be the subsequent sessions in general.
Just like each individual is different, we understand the uniqueness of each profession. Hence, we build a holistic branding strategy – both online and offline around you and your profession. For Political leaders, along with the personal branding, the key area we focus on is the mapping of the voter-profiles. We customize all the branding activities based on this requirement. Similarly, for models and aspiring models, the focus will be more on working with PR agencies. The customisation is applicable across professions like doctors, lawyers, established entrepreneurs, start ups and employees. The key is to focus on the niche and tap the market accordingly.
Don't miss

the latest seats on the workshop

Learn the skills you'll need to promote and run a successful business.
Testimonials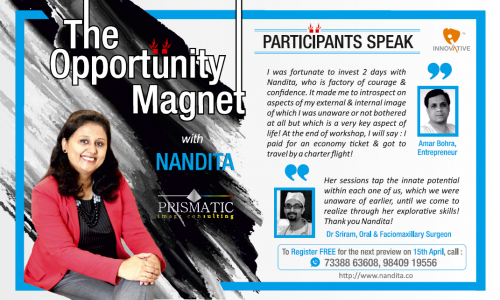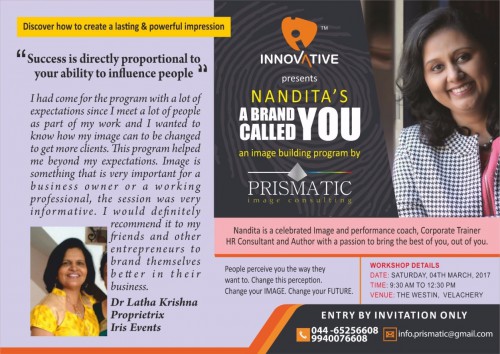 Nandita is brilliant and very knowledgeable. I have attended a few training programs but this is the best and one close to my heart. It was a personalized training program. My expectations were met.

– Moin Razack (Entrepreneur)
I was as fortunate to invest 2 days with Nandita Pandey, who is factory of courage and confidence. It made me introspect on many aspects of my external and internal image of which Iwas unaware or not bothered at all but which is very key aspects of life. At the end of workshop, I will say I paid for an economy ticket and got to travel by charter flight.

                        – Amar Bohra (Entrepreneur)