The Opportunity Magnet
The Opportunity Magnet TM
We all want to be the magnet that attracts success in our personal, professional, social life. The first door to success opens when we are able to attract those opportunities and success comes when we are able to do the same on a continuous basis – each time, everytime.
No opportunity goes waste, someone else grabs it.
Learn to art the science of being the magnet that attracts opportunities.
Who Should Attend ?
Business Owners
Mid-management professionals
Trainers, Coaches
Chartered Accountants, Lawyers, Company Secretary
Doctors
Senior Executives in mid-size firms
Why Should I Attend?
From this program The Opportunity Magnet, you will be able to learn how to
handle tough situations and people so that your sales / business deals will increase
influence people that will help you build your professional and social life
attract the right people to become a Brand
Self-Confidence
Leadership
Self-Motivation
Pedagogies
3 days program with handouts and templates
Book – Dressology – The Winning Strategy
Know your self image and external image Questionnaire with analysis
20 min skype session with trainer before the program
45 days WhatsApp group support
Don't miss

the latest seats on the workshop

Learn the skills you'll need to promote and run a successful business.
Testimonials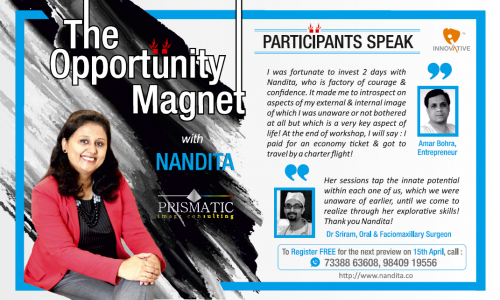 I was as fortunate to invest 2 days with Nandita Pandey, who is factory of courage and confidence. It made me introspect on many aspects of my external and internal image of which Iwas unaware or not bothered at all but which is very key aspects of life. At the end of workshop, I will say I paid for an economy ticket and got to travel by charter flight.

                        – Amar Bohra (Entrepreneur)
Her session's will tap the innate professional within each one of us, which we were unaware of earlier, until we come to realise through her explorative skills.
–Dr Sriram Choudary (Oral & Faciomaxillary Surgeon)
This program helped me to realise, how I should be behaving in each situation to be accepted by people. This also helped me in judging my dressing style. It improved my confidence on myself and I'm so thrilled that now I will be able to manage situation and people.
-Preetha (IT Professional)