Secret of Personal Branding
Secret of Personal Branding
Branding is what people say about you when you are not in the room. Attract success, money and healthy relationships into your life and let the world see a bright shining star in you. People judge you by the way you present yourself. For them, these impressions become your reality, you have an image about yourself (your beliefs, values) and you want to project a certain image that helps you reach your aspirational goals. You need to get an alignment to ensure a consistent winning image. Register here to get an invitation for a complimentary Workshop on Personal Branding.
Who Should Attend ?
Business Owners
Mid-management professionals
Trainers, Coaches
Chartered Accountants, Lawyers, Company Secretary
Doctors
Senior Executives in mid-size firms
Why Should I Attend?
At the end of the seminar, you will be able to
Establish the need to create an identity of their own that resonates with you
Walk out more confident about who you are
Project the right image in front of others
Self-Development
Leadership
Self-Motivation
Course Duration: 3 Hours
Don't miss

the latest seats on the workshop

Learn the skills you'll need to promote and run a successful business.
Testimonials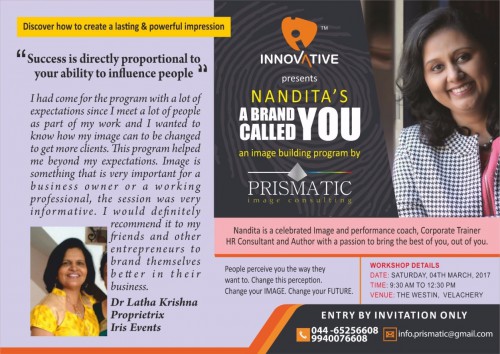 Nandita is brilliant and very knowledgeable. I have attended a few training programs but this is the best and one close to my heart. It was a personalized training program. My expectations were met.

– Moin Razack (Entrepreneur)
Looks Simple yet Empowering Solution. Was a raw stone and they make an attractive well-polished Diamond. A must do to Empowering Personal Image

-Pankaj Jain(Entrepreneur)