Nandita Pandey is India's leading Personal Branding Coach. She is the Founder and Director of Strata Vision Pvt Ltd (SVPL) and is also the Chief Image Consultant of Prismatic Consulting. In a span of 7 years she has acquired an incredible reputation and is also responsible for the outstanding success of some of India's most efficient brands, CEOs, CXOs and Celebrities. Nandita believes that organizations achieve their business goals through people and that is exactly where her focus lies.
She offers ongoing learning programs, support and coaching to strengthen your personal brand and image towards a valuable and rewarding career or business. The challenge that most people face is that they either don't know what to project themselves as or how to do it. Nandita uses a comprehensive approach to tackle this. This approach starts with identifying your strength and discovering your opportunities, identifying your audience, developing personal leadership, crafting your message, differentiating your business by honing your uniqueness, and finally defining your values and building a brand around it.
Till date she has trained more than 3000 people on Image Management. Her clients include Vodafone, Bosch and Siemens, Nestle, Jubilant Audi, ITC Grand Chola, Tata Motors and Maruti, Corporates, CXOs, business owners, aspiring models and future political leaders of the country.
WHY I DO WHAT I DO- Nandita Speaks!
"We all get so busy caught up in what we do every day, that we don't give the time to really reflect on why we do it. Until that day, it is not the "what" that motivates us to jump out of bed in the mornings, it is the "why." It is not the "what" that drives us to give great service and become expert in our field, it is the "why."
I grew up believing if you are good, you will shine, the world will realize your worth, they will wake up to your brilliance. You will be discovered, outside appearance in frivolous – intelligence and hard work matters. I had never understood that the visual aesthetic we present to others through our appearance and apparel was equally important.
I remember the night, after I was denied the opportunity for my excellence and hardwork, and the reason that came across the table from my management was no question about my competency but they doubted if I could represent them internationally for they believed I didn't know how to carry and project myself. That night seemed to last for an eternity. I'd lie awake all night and stare out the window all day, in the desperate hope that it was not final, everything was normal, and life was fine, the way it always was.
That is the time when I realised, yes, the inside matters. But to get a chance your appearance matters, your branding matters. Once you get that chance, you can be a success because of your hard work, competence and intelligence. Upon diving deep into this, I slowly understood that image is everything, at least at first. Right or wrong, we live in an opinionated l world and that first impression goes a long way in shaping how people feel about you until you impress them to think otherwise. You can feel successful people when they walk into a room. Attention goes their way in an instant.
Creating an impactful 1st impression is just not about dressing up or looking good. It is a combination. It is combination of creating an image, your skillset and a building a brand around you. This is the combination that defines you and leaves a positive impression. It all lies in how well you project yourself. If you project a loser image, people will treat you like a loser right from the start. You want people to think you are a winner from Day One. Winners get hired. Winners get funding. Winners get promotions. Winners attract top talent. Winners invite opportunity.
The world today believes in this, and it is but intelligent that we also project ourselves – not aping but by being authentic and appropriate and consistent. Projecting our values in everything we do and say is the only way to build trust and this trust will build your brand.
So, I am basically helping people rediscover who they are, how they want to be remembered and then provide tools and techniques to project themselves that way to the world. They reach their goals – personal, professional, social and spiritual goals – faster and with less effort. "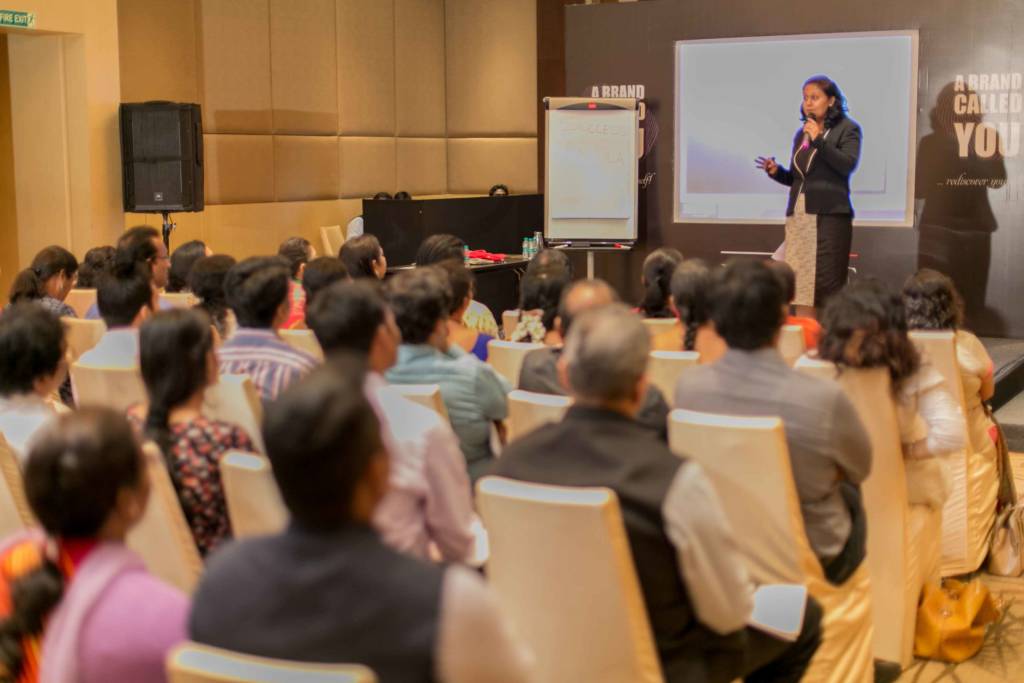 Are you determined
to make your life be what you want it to be!
How Coaching Can Benefit You
Experience winning in your Profession & Business
Branding is what people say about you, when you are not in the room. Let the world see a bright shining star in you.
How is it that some people get success so easily and others have to struggle to get there? One of the key ingredients for success is how people perceive us…
Nandita is a dynamic person and she uses unique ways to determine what the target market needs and has the capability of tweaking her marketing modules accordingly…
You can learn how to influence people and attract success, money and relationships into your life. Nandita teaches us how we can impact people positively…