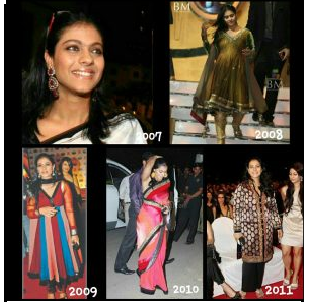 Kajol! Yes, that's the name which crossed our minds while humming this song. One of the powerful female actor Kajol who made her acting debut in 1992 with Bekhudi and then gave her first hit Baazigar. The actor is known for her acting skills but was quite defamed for her fashion sense. But her journey from being a fashion disaster to a fashion diva gets her 10 on 10.
These images are collection of Kajol's appearances in award functions. Where she is very much in her "I don't care about how I look" avatar. She pretty much believed in comfort and in her dear friend Manish Malhotra.
She once also mentioned in an interview that- "when I was acting I was always told what to wear. Only later I realised it was because I never really had an opinion on what I should be wearing".
Probably she was a blue pill then! She has been pinpointed for her bad dressing sense quite a lot of times by fashion police.
But only after Triporna Majumder started experimenting with different colors and her hair she became a fashion diva. Triporna is a celebrity stylist. Apart from Kajol she has also styled Vidya Balan, Amrita Rao and Kajal Agarwal too.
Triporna said- "At the time when I met Kajol she had her favourites in place and did not want to budge from them. Like she would only look at black among everything that I would line up for her and stick to only neutral shades for lips. Gradually I started trying new things choosing fresh silhouettes brighter colors and I played a lot with her hair. It worked each time for us as her face was receptive to every kind of hairdo her skin shone in all new colors that she had earlier stayed away from".
Kajol showed immense transformation effortlessly. Earlier she would stick to Indian outfits by her dear friend Manish Malhotra but now she can be seen wearing a range of looks from different designers. From Sabyasachi to Prabal Gurung, her sarees are no longer usual Manish Malhotra.