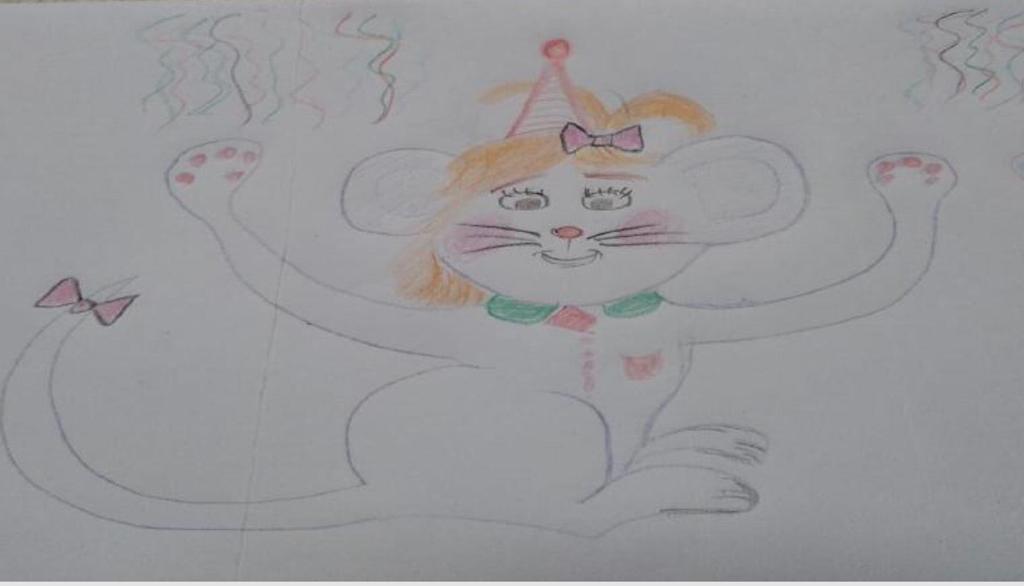 Once there lived a little mouse whose name was Pinky. She was a beautiful brown mouse. She was nine years old and was turning ten. One day, her father sadly said, "Pinky, my dear, I love you but I am so sorry. People now don't throw away food so we won't be able to celebrate your birthday". Pinky was heartbroken but she was quiet and didn't want to ask for anything unreasonable.
She lived with her father who was the head of the mouse clan and her friends and family. Pinky was very clean and hard working.
She was also kind to the others although sometimes they used to tease her. She used to go to lots of human cottages nearby to bring food for her family and friends. One day she went to a cottage for the first time. There she discovered the front door was locked so she tried to go through the gap , but there was a net, so she couldn't get in. She was really puzzled so she went around the house three or four times. Then she found a key to the house so she opened it and went in and walked a bit and she saw a huge table.
She climbed up the table and there she saw a letter and was puzzled about who it was for, but then she noticed it was written to "whoever passes by". So Pinky opened the letter and in the letter it said, "We had a wonderful party just the day before and there were a lot of leftovers, but I became very sick, so my husband and I have gone to the seaside, so I have left the key out for the people who collect trash".
Pinky was surprised but she was a curious mouse. To her great SURPRISE she saw tasty cupcakes , cupcakes and lollipops and so many more goodies. Pinky was delighted when she saw this, because she could then celebrate her birthday party. She danced until her legs ached a lot but she was too happy to think of it.
She scurried back to her cozy mouse hole and stood up on a stone and said , " May I have your attention please? I would like to tell everybody that I can celebrate my birthday party. And I would like everyone to come".
Then they all went to the cottage to get some food. They said sorry to Pinky for teasing her all the time, because she was kind she said it was all right. Then they all feasted and said 'PINKY' was the HERO of the day and the birthday girl. HAPPY BIRTHDAY PINKY.
Here's a little about our shining star Joanna Mathews
Joanna just turned 10 years old. She is home schooled and loves reading and writing. She spends most of her day reading and playing with her sisters! She particularly loves adventure stories. Her favorites collections are the Secret Seven and Famous Five. Her favorite hang out is the library.