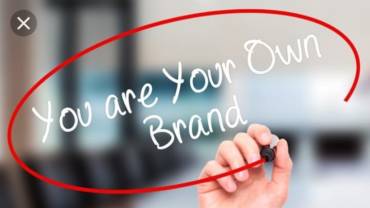 When we hear the word 'Brand', we think of it as some external embellishment which only the privileged section of the society can enjoy. We often associate 'Brand' with something artificial or something outside us. But is that so? Is branding an art of only the rich? Is branding an addition to our existing lot? Another very glittery term that has got our attention is 'Image' . Everyone is running after forming an indestructible Image . If you don't believe me then check out your Instagram or twitter or snap chat or the all time famous, our 'Blue Fairy', Face book. It appears as if some audition is going on, each member trying to create a never fading image. So, I got it, we need an imperishable image? Right? But how to do that? do all images leave an impact on us?  are all entrepreneurs shining out there? Do all business profiles invite customers? The answer is a big 'NO'! The only way to form an indestructible image is to make 'Personal Branding ' a living and conscious process. But the need of the hour is to understand 'Personal Branding', its nature and how it functions.
Personal branding is the art of being our True and Authentic self. In a world full of copies and copies of copies, we reject our own self to fit in framework of others, so the image we form is too an imitation which wont last long! Personal branding is always happening, whether consciously or subconsciously, that's our choice. We will always be branded by other people who think of us in one way or the other, but if we control it, we will be branded just the way we desire to be!
Personal branding is not moving outwards but going inwards, exploring our Uniqueness, Realizing that we are one of a kind and not merely becoming a copy. Personal branding is the coupling of Authentic Attitude, Belief, Knowledge with Right Expression through Words, Gestures, Confidence and Clothes. Personal branding is for everyone, it is not just for the privileged or for entrepreneurs, it is a conscious process that must be lived by every person. Personal branding aims at creating an image which transcends beyond time and space and is not transient.
What Personal Branding is 'NOT':-
Wearing best of Brands (Clothes, Jewellery) but lacking an Authentic and Right Attitude, lacking in confidence and imitating others.
Creating high merit profiles on Social Media but lacking Authenticity and Uniqueness.
Creating an account on LinkedIn but lacking original ideas.
Functions of Personal Branding
Personal branding is like your Signature, you own it! It is creating your own space when it comes to Entrepreneurship or forming a high profile effortlessly. Personal branding makes you Authentic and Unique and attracts Customers or viewers. If you are different, people will come to you because what is new is always invited. Personal Branding automatically creates a hype around us and people will be attracted. When personal branding comes into play, competition becomes irrelevant because competition occurs between individuals or groups which have parallel characteristics, so if one defines themselves as a unique brand, having a unique set of characteristics, then any type of competition becomes irrelevant. You don't seek business, business seeks you. 
Personal Branding is 'I' in making, which is your own unique self! It will never go unheard or unseen because what is unique can never be defeated! When we choose to be ourselves , then there is no one better than us in that. 'I' may sound egocentric but it is not pride but defining us as one of a kind . When it comes to you , your own unique space, your own brand statement, then there is no one near you. Remember, originality never fades, it is imitation that crumbles down!
So choose for yourself, whether you want to be a brand which others decide or a brand that you decide!!!