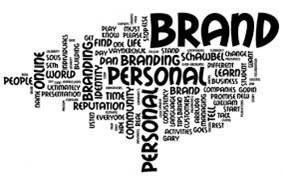 "I think, if you tell me that you do not know how to wear a sari, I would say shame on you. It's a part of your culture,
(you) need to stand up for it." were the words said by  Sabyasachi Mukherjee – a renowned fashion designer at Harvard
University's India conference.
In no time this statement snowballed into a controversy and eventually the designer had to apologize for making the
statement.
A man who was known for his passion in textiles and Indian Heritage and who was appreciated for his opulent creations
and fine craft had to face a strong criticism. Also  many social media users pointed out the underlying misogyny and
patriarchy in his statement.
What stuck me about the entire incident was how important it is for us to communicate right as we are our own brands.
Also why you need to get your facts right about your industry and leave nothing as a comment that could be misleading.
A FEW FACTS ABOUT THE SAREE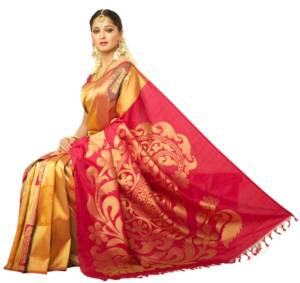 While most of us think Saree is the national garment of India, it isn't. It is just another traditional apparel that is
worn by women of the Southern States and few northern states. Saree is not a primary attire in most northern states like
Rajasthan, Punjab, North East and Himalayan range. And every state follows a unique style in wearing it. It surely is an
ageless garment that can be worn to an extremely traditional function and also to a Business event.
The traditional saree is more than just clothing. There was significant meaning and symbolism attached to the garment in
the form of different colors or designs. A traditional saree had numerous designs and symbols used on it. The Paisley
and Fish were used to show fertility. 
They also represented the abundance of food and children.  These patterns were
mostly seen in the coastal regions where the people survived on fish.  Designs in the form of an Elephant symbolized
water, fertility, wealth and good luck.  It also exemplifies Lord Ganesha who is the remover of obstacles.  The Conch
was also a symbol of the Gods and represented the bugle used in war.  The use of colors in the saree has also had
specific meaning behind them.  Red, used in the traditional sense is associated with the warrior and a sign of valor.
The various patterns and colors of the saree depicted beliefs, virtues, and the region the person came from. The draping
style of the saree also varies from reion to region. Infact, there are more than 20 traditional and 30 modern draping
styles within the country.  For example Athpourey shari  style was from Bengal,  Nivi drape and Kappulu styles from
Andhra,  Mekhela chador from Assam, Nauvari saree from Maharashtra, Seedha pallu from Gujarat, UP and Odisha,  Pinkosu
from Madurai and a lot more.
anushka chennai silks – moviegalleri.in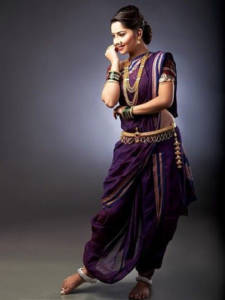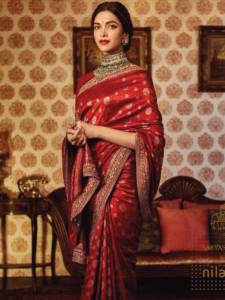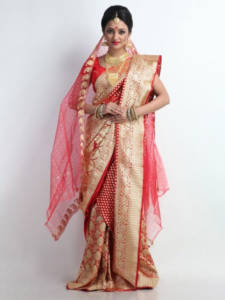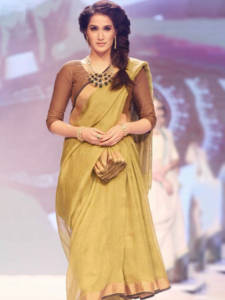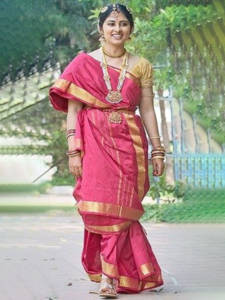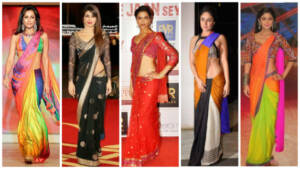 Though saree is an incredibly graceful garment and my personal too, it is not the national garment of India and there is
no national garment for India. India is immensely diverse and I believe one garment/language/food cannot depict the
richness this country stands for. And also liking and being able to wear a certain garment is a personal choice and
cannot be generalized. We all should take pride in the Diversity we have and also be proud of the choices we make.
I am sure Mr Sabyasachi Mukherjee would be more than aware of these facts. He has infact dressed some of the leading
fashion and cine divas in the most graceful and traditional way in sarees. He is known for his vintage embroideries ,
bringing merging tradion with contemporary designs and is known for his bridal trousseau, the one designer most Indian
girls aspire to be dressed by.  The challenge was that one comment or act can tarnish the image that you took years and
months to build. It takes a lot effort, time and energy to build something but one non-congruent statement can break
that.
Branding is what people say about you when you are not in the room. Say the 'right' things for them to talk 'right'
about you.