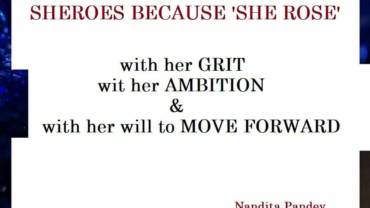 There's No Force more powerful than an Ambitious Woman with a Vision.
In recent times, a lot of women achieving in their fields, but what I have been pondering upon is, is that all we have?
Most women are just as ambitious as men when they begin their careers, but become so wearied by fighting against multiple structural and experiential barriers to their success that this ambition often fades.
Most surveys reveal that there is a difference in the levels of ambition in the proportion of men and women aiming for the top. What is surprising is that, they don't start off that way. The surveys were done for various professions and it was found that both men and women have absolutely equal levels of ambition and want to make it to top in equal numbers.
While men's ambition increased with time, women's decreased and the reason is not associated with wanting to have kids, or to stay home and look after them. It's related to not having support, mentors or role models to make it to the top, and the subtle biases against women that lead to their choices. It is at times the frustration of proving oneself time and again for something frivolous. Also, society at times, labels and judges women who are ambitious. It is convinenient to walk a path of conformity.
I believe there needs to be a considerable level of awareness that needs to reach out to these women and it's our responsiblity to ensure this happens. In a recent meet in Delhi, where the top women of Corporate India discussed on diversity and inclusion, Ms Naina Lal Kidwai, stated that women should feel proud that they are ambitious. They should not shy away from it.
And also I don't think ambitious women should feel shy about admitting to a desire to get on, succeed, even to win – and it's time to get it out in the open, without fear of becoming target practice.
A lot is being done to break the Glass Ceiling. The government and corporates are working towards diversity and inclusion. The numbers show a positive trend. However, certain class of companies have a women director form within the family to comply to the Company's Act of 2013. The objective of including women to increase diversity is defeated as these women are notional heads. A number of forums are supporting  and developing women leaders across the county. The objective of these forums is to prepare women to fulfil these director level positions. Unfortunately, organizations are not willing to take in a new breed of directors and hence a few women are serving on multiple boards or someone from within the family is present.
Real diversity and inclusion will happen when women who are deserving are given the roles to ensure diversity. For that, the women need to
be proud that they are ambitious for themselves,
have a larger vision and share that vision,
own their achievemets  and be proud of their achievements and accomplishments,
think of at scaling and growing,
avoid walking the path of conformity and give in or give up on their dreams
fight the battle within.
To a more diverse and inclusive India….